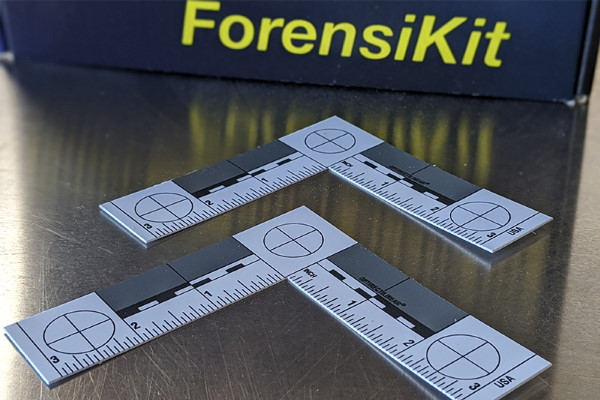 The ForensiKit: Evidence Photography box includes
Two No. 2 ABFO-type Photomacrographic Scale – Metric
Two No. 2 ABFO-type Photomacrographic Scale – Inch
One MicroMini Pocket Microscope with Smartphone Adapter
One 15-pack Disposable Evidence Tents
One activity insert (Download another copy [PDF])
One packing list (Download another copy [PDF])
No subscription required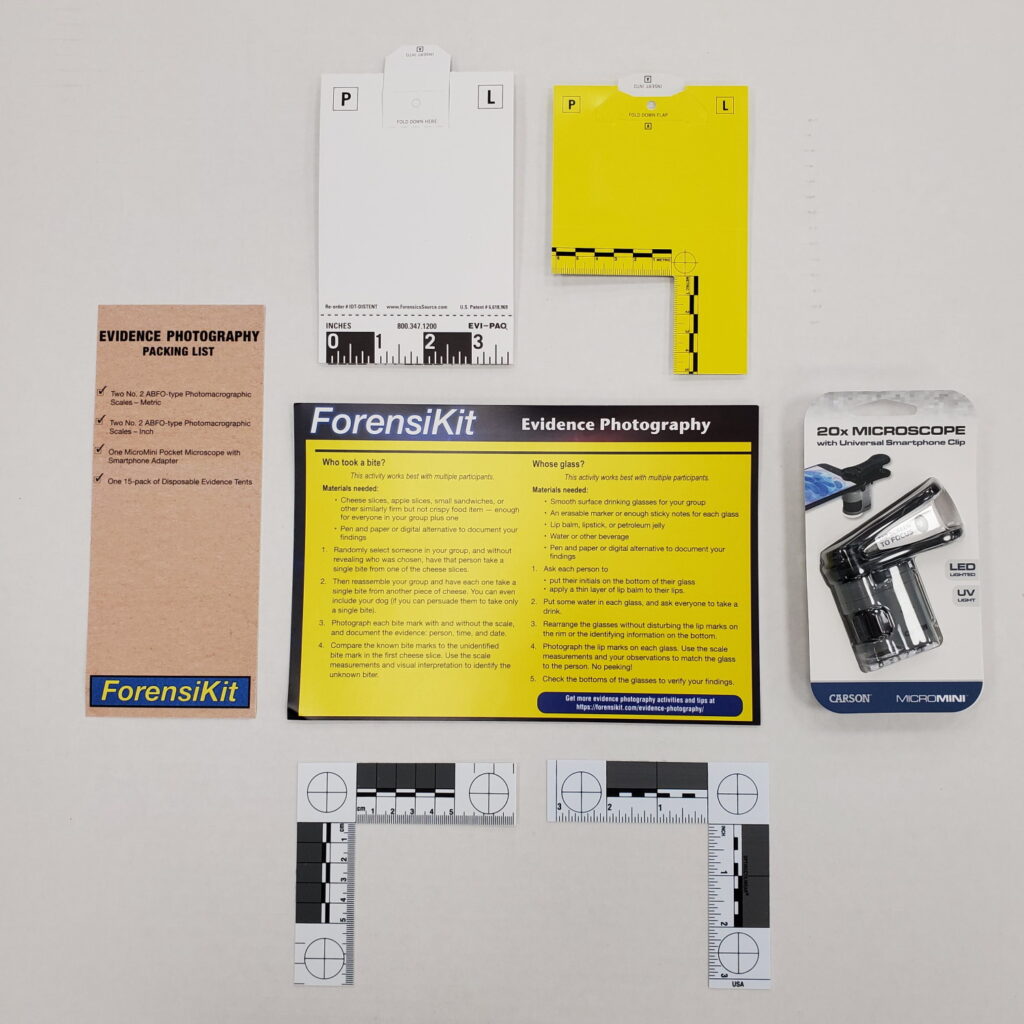 Taking evidence photos with a DSLR camera
Taking evidence photos with a cell phone camera is OK, but a dedicated DSLR camera offers access to an optical macro closeup setting and advanced exposure options.
Setup
The file format for your images is important. RAW is the best format because it's uncompressed.

RAW image editing requires special image tools.
If you're unsure of your abilities, use the JPG setting.

Set the image quality on fine and the image size to largest.
Increase the depth of field of focus by using a high F-stop setting on the lens.
Increase image sharpness by shooting at 1/60 or faster shutter speeds.
Use a focal length of around 50mm. Do not use your zoom settings to get close because it causes distortion.

If you've seen a photo where the subject's nose looks large, you've seen this kind of distortion. It happens because a zoom setting was used, which caused the facial area closest to the lens to appear larger.

Your DSLR camera lens likely has macro lens abilities. Look for the tulip icon on the lens.

When you turn to that focus setting, it becomes a fixed focus macro lens for closeup photos.
Move in and out to establish focus.

Use a tripod to maintain a consistent perspective in a series of photos.
To photograph a scene at night, use a long shutter speed of several seconds.

Use a flashlight to paint with light by illuminating the darkened areas so they show up in the image.
💡 Tip: You can use the gray scale printed on your No. 2 scale to correct a photo's exposure. Bring the image into your photo editor, and match the on-screen gray color to the actual color of the scale you have.
---