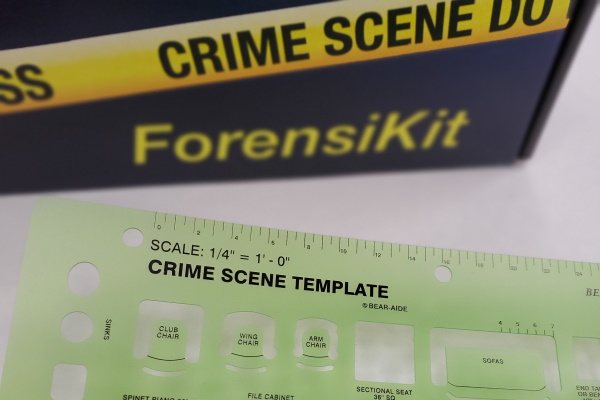 The ForensiKit: Crime Scene Drawing box includes
One 12-pack Ticonderoga pencils
One pencil sharpener
One crime scene template
One 6-inch ruler
Twenty sheets of loose-leaf graph paper
One clipboard
One compass
One activity insert (Download another copy [PDF])
One packing list (Download another copy [PDF])
No subscription required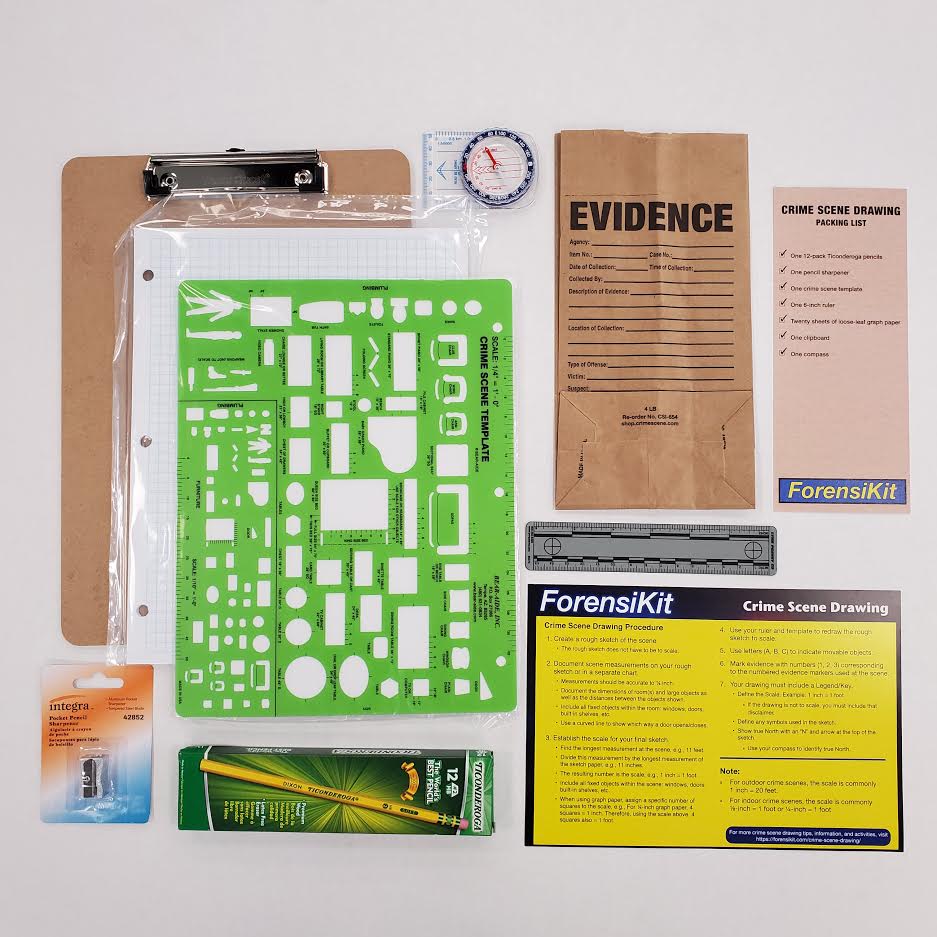 ---
Activity – Retail store break-in
Part 1 – Use the following notes to create a rough sketch of the crime scene described below.
Reporting Officer: Gene Standup
Photography: Officer Abby Whitepaw
Fingerprinting: CSI John Markup
Crime Scene Sketch: _____[Your Name]_____
Date: July 1, 2020
Time: 10:45 p.m.
Location: Ziggy's Lawn, Garden and Pet Supply
Address: 1020 Northview Lane, Eagle, MT 59102
The local store, Ziggy's, was vandalized. The perpetrator(s) entered through the back door (south side) of the establishment by breaking the glass of the door. Neighborhood Watch member, John Kelli. called 911.
The greenhouse is the only portion of the building that has been breached and vandalized. The doors to the main store are secure. Broken debris from pottery and other products are scattered throughout the building. Most of the plants have been destroyed both inside and outside the back doors.
Part 2 – Use your rough sketch to draw a final sketch on the graph paper, to scale, with all of the appropriate elements labeled and referenced in the legend.
To view example rough and final sketches of the same scene, see Figures A and B in Documenting the Crime Scene at Evidence Technology Magazine
---
Activity – Drug deal gone wrong
Use the photos below along with the facts listed to draw the scene of a drug deal that ended in murder.
This crime scene begins outside in the driveway of the residence, continues inside through the entrance to the front room area, and terminates in the bathroom.
Use the crime scene facts to determine the locations of the body and evidence (not shown in the photos).
Steps
Begin with a rough sketch of the scene.
When your rough sketch is complete, create a final sketch with all elements of the scene to scale.
Crime scene facts
Drugs are found inside the backseat of the vehicle as well as on the concrete immediately outside the door.
The vehicle is a 2016 Subaru Outback.
There is a blood trail from the car into the house (15 ft.) through the front door (3 ft. x 7ft.) and all the way into the bathroom (15 ft.).
The front room area is 15 ft. x 15 ft.
The short hallway to the bathroom door is 6 ft. long.
The bathroom door is 3 ft. x 7 ft.
The bathroom vanity is 2 ft. x 5 ft.
The bathroom, including the shower area, is 7 ft. x 10 ft.
A body is on the floor in front of the toilet.
Blood is pooled around the body.
There is a knife on the floor near the left hand.
💡 Tip: Use the crime scene drawing template to show door openings, etc.
To learn more about drawing crime scenes, see Chapter 4: Crime Scene Sketch [PDF] of Physical Evidence Handbook at wilenet.org
---