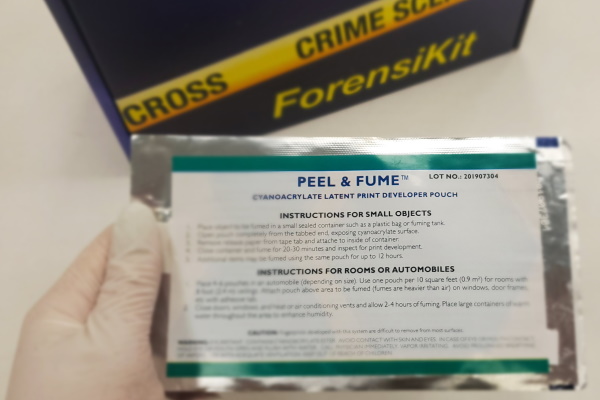 The ForensiKit: Fingerprint Fuming box includes
Two Peel & Fume pouches
One Fast & Easy fuming chamber
Five fuming bags and wire ties
One 1-oz. vial fingerprint powder
One fiberglass brush
One pair of protective eyewear
One dust mask
One pair of Nitrile gloves
One activity insert (Download another copy [PDF])
One packing list (Download another copy [PDF])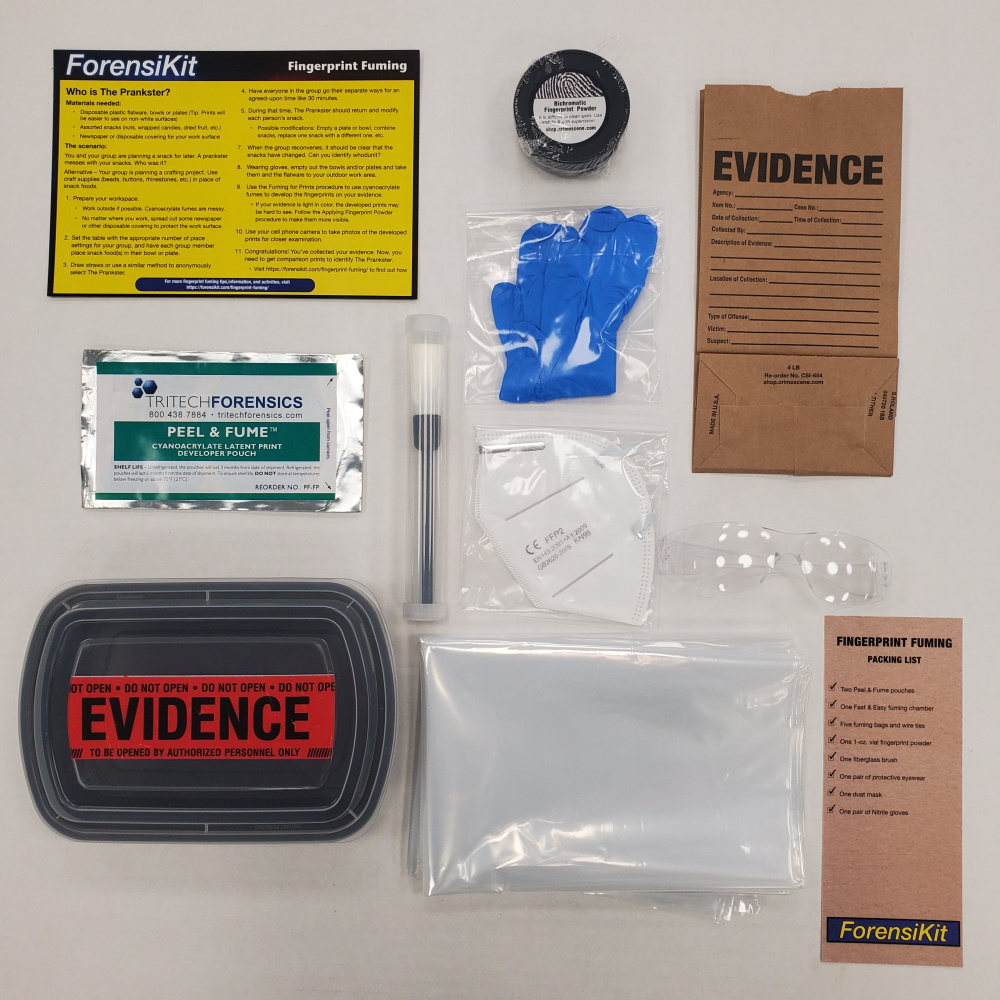 ---
Activity – Collect examplar fingerprints for comparison
After you've developed your unknown prints with fingerprint fuming, you need sample prints from everyone in your group to compare to the unknowns and identify The Prankster.
💡 Pro Tip: Always wear a mask and gloves when dusting for prints. Fingerprint powder can irritate your respiratory system, and your bare fingers can leave prints on the surface you're dusting, contaminating the evidence.
Materials needed:
Plain white paper
Pen or pencil
Camera or cell phone to take photos (optional)
Steps
Draw a grid on the paper.

Grid squares should be at least 4 inches x 4 inches.
Make sure you have enough squares for everyone in your group.

Label each grid box with a group member's name.
Have each group member make sure they have plenty of skin oil on the index and middle fingers of their right hand (unless they're left-handed) and touch those two fingers on the paper in the grid box with their name.

💡 Pro Tip: If your fingertips are too dry, the side of your nose is a good place to pick up extra skin oil.

Follow the Applying Fingerprint Powder procedure in the activity insert to dust the gridded paper to reveal the latent prints.
Take photos of the dusted prints and compare them to the unknown prints you developed using cyanoacrylate fuming.
Can match the known samples to the unknown prints and identify The Prankster?
---
Additional Resources
---